Why Rain Gutters are important and when do you need to replace them


With rainy July days coming up, your mind must be already infested with the multitudinal ways you can ensure your house remains steadfast and properly functioning in time for when the rainy showers erupt. One of the ways to ensure this is by installing gutters in your home. It's an item every homeowner tends to ignore, as a result mistakes are made which cause more damage than prevention.
Here are the reasons why you should install a gutter in your home: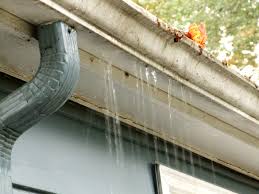 Prevents home and basement flooding
Maintains a steady house foundation and prevents damages or cracks on the house walls.
Prevents breeding of mosquitoes or other insects on standing water.
Water staining to the brick and stone masonry is prevented.
Prevents erosion by diverting the water away from your home so the topsoil isn't eroded and leave the foundation vulnerable.
Prevents paint damage.
Avoids water damage to cause rusting/rotting of building exteriors.
Prevents emergence of harmful plants such as fungi which can damage flowers and trees.
How to maintain your gutters:
if you are cleaning gutters, make sure you check for rusted spots, dents, holes and try to repair or replace them.
Clean your gutters twice a year, in early spring and late fall.
Check to ensure your gutters are not pulling away from your home. If such a problem exists, then talk to a gutter installation professional about changing the spikes or holding the gutter to screws, which do a much better job of holding the gutter in place. Also, make sure your downsprouts are clean and not blocked by leaves, and they stand at least 10 feet away from your home.
For houses with trees that stand within 10 feet of the roofline, gutters need to be cleaned out twice a year at a minimum, or in some cases gutters need to be cleaned out a couple of times.
A properly installed gutter system needs to include seamless gutters on every sloped roof edge so that the gutters do not hold standing water, do not leak and are securely fastened to the fascias.
Make sure your downspouts are not standing close to the foundation because it might dump water from the roof at the side of your home. To prevent this from happening, use a flexible black plastic diversion pipeline, or a section of downspout can be attached to the end of the elbow.
Leave guards are a suitable option to keep gutters clean. However, before you decide to purchase a product it is mandatory you read reviews of the products online and research aptly before deciding to purchase one because in some cases, products that tend to dam leaves on roofs actually end up causing damage to roof decking and eaves.